UC Browser is one of the most widely used web browser on mobile platform, its available on almost all platforms like iOS, Android and Windows Phone as well. Today UC Web has launched one of the biggest update for its Android version to v10.7 which comes with complete refreshed UI and in-app widgets, and to make it more personal, now UC web browser supports specially designed background images.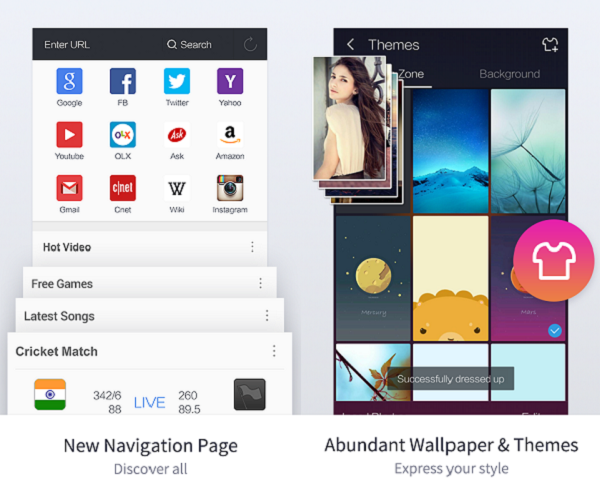 New version comes with customizable homepage with manageable card system, users can rearrange the cards (in-app widgets) – such as Headlines, Top Sites, Jokes, Cricket Match, Cricket Topic, Top Free Apps, Opinion, Trending Video, Shopping, and more – according to their own preferences and pin their favorite one to the top.
To make it easier and faster for users to discover and access content through a manageable card system, like if you pin the card of Headline on the top, you will be able to see and read the news headlines on the homepage immediately after you open the browser.
Kenny Ye, Managing Director, UCWeb India, said, "UC Browser is the first mobile browser to introduce cloud computing. With the new launch, UC Browser once again stands ahead of the industry to further consolidate its focus for India, where almost half of total page views on mobile phones are accessed from UC Browser (as per StatCounter). This new update will transform the way nearly half of India's mobile browsing traffic is consumed."