Over the years, our way of talking and now we don't just write in words to convey our message to the other, but instead we had developed couple of other ways too like use of Emojis, GIF or Emoticons in our conversations, and nowadays we use these in our day to day conversation to make it more interesting as one GIFs can say lot then words. And as most of us uses social media platforms, even social media like Facebook or Twitter has added support for GIFs to make you conversation more interesting, and to make your life more easier, most of the Android keyboards comes pre-loaded with GIFs so that you can use them right from there.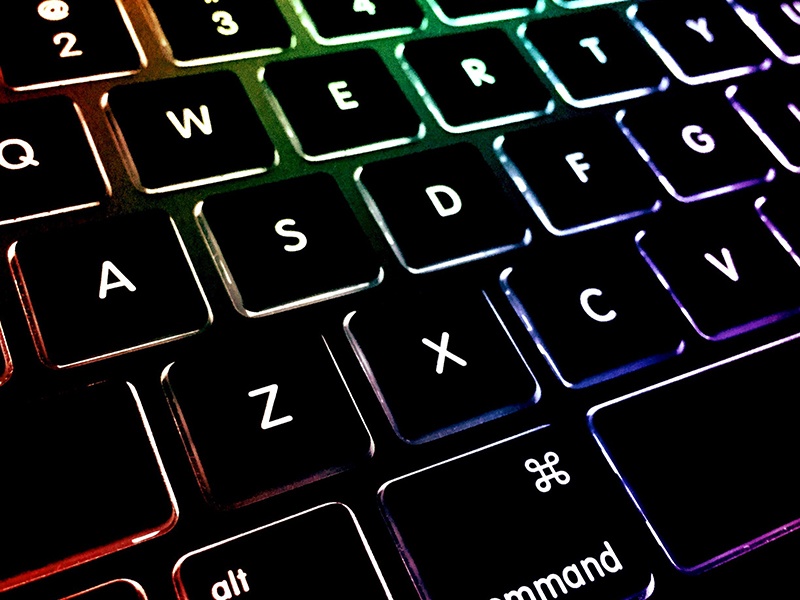 If you are using any Android Keyboard which lacks support for GIFs then here we are going to share some of the best known keyboard for your android smartphone which you can download and use them, and best part is all of them are free.
#1 SwiftKey Keyboard
No doubt, SwiftKey Keyboard is one of the most popular keyboard when it comes to Android platform. This keyboard brings lots of features to you, it can be customized according your need, there are lots of theme with which you can customize the look of this keyboard.
It also comes with auto-correct and swipe typing, they are also added emojis and GIFs support to they keyboard and they have huge library from which you can select the right GIF according to you conversation.
This keyboard supports more than 400 languages and comes has more than 100 themes in their library so that you can customize it as per you need.
#2 Bobble Keyboard
Bobble Keyboard is one of the highest rated keyboard app available on Google Play, and one of the most interesting thing here is you can create you own personalized bobble head which is a kind of sticker, just by taking a selfie and then you can use your face on hundreds of stickers which you can use while chatting.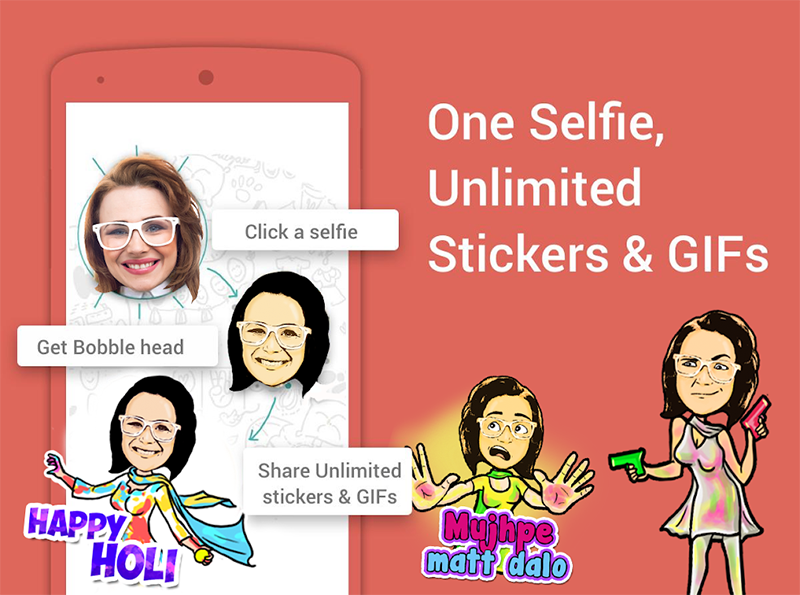 Bobble AI Keyboard uses Artificial Intelligence to automatically predict Emojis, Memes, Stickers, and GIFs, this keyboard also support swipe typing but if you love GIFs or Emoticons then you will get more than 100K of stickers and GIFs.
Bobble Keyboard supports 41 Indian Languages and 77 foreign languages, so no matter in which language you want to have conversation, its right there.
#3 Gboard
Gboard or Google Keyboard, it is the keyboard which you will find pre-loaded on most of the budget smartphones as it offers stock Android experience to you. There is a dedicated section for GIF and Emojis which you can use, here you will find trending GIFs which you can use to make your conversation interesting.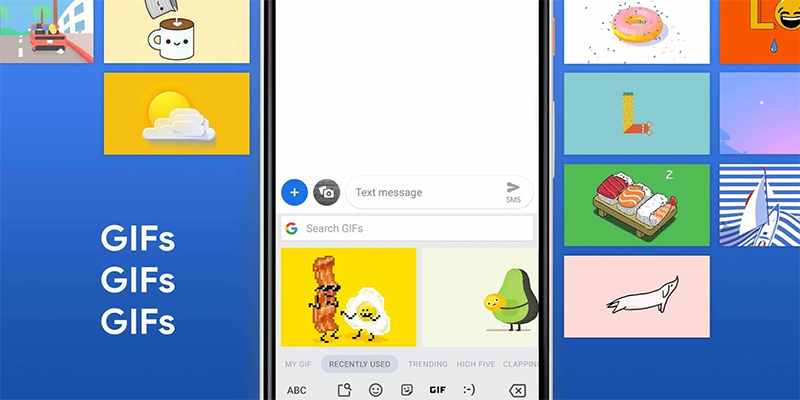 This keyboard is closely integrated with other Google services like maps, search, translate, and voice commands which means you can translate text right from the keyboard without the need of leaving your chat box.
It also support auto correct, swipe typing and on top of all, it clean material design interface.
#4 Fleksy Keyboard
This keyboard claims as fastest keyboard for Android, up to some extents it is right, it also comes with the support of auto-correct, gestures, and you can increase its working by using tons of extensions.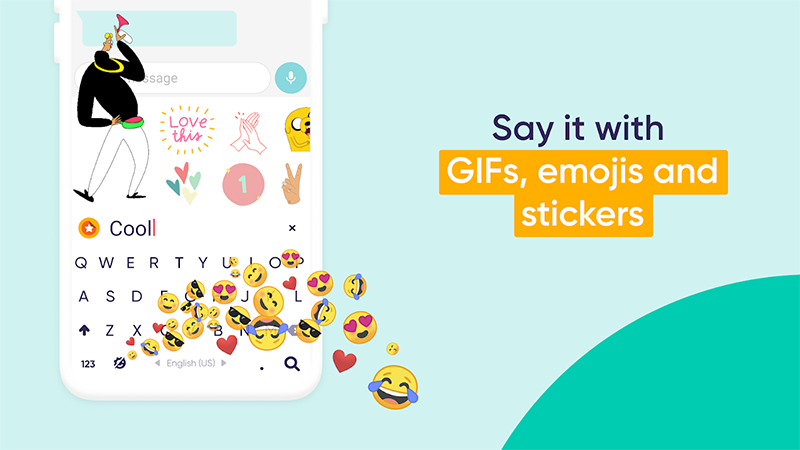 You can use GIF extension to add more GIFs and they have neatly organized GIF in sections like recently used, categories and trending, the best part is there search engine for GIF is really good and work perfectly.
The keyboard is available in er 40 languages and comes with 50+ themes which you can use to customize the look. And the best part about this keyboard is it does not collect any of you personal data.
#5 Chrooma Keyboard
This is one of the most fancy keyboard you can find, it is a lightweight, emoji keyboard that adapts its color theme to the app you are using. There AI provided better suggestions and auto-correct features works flawlessly.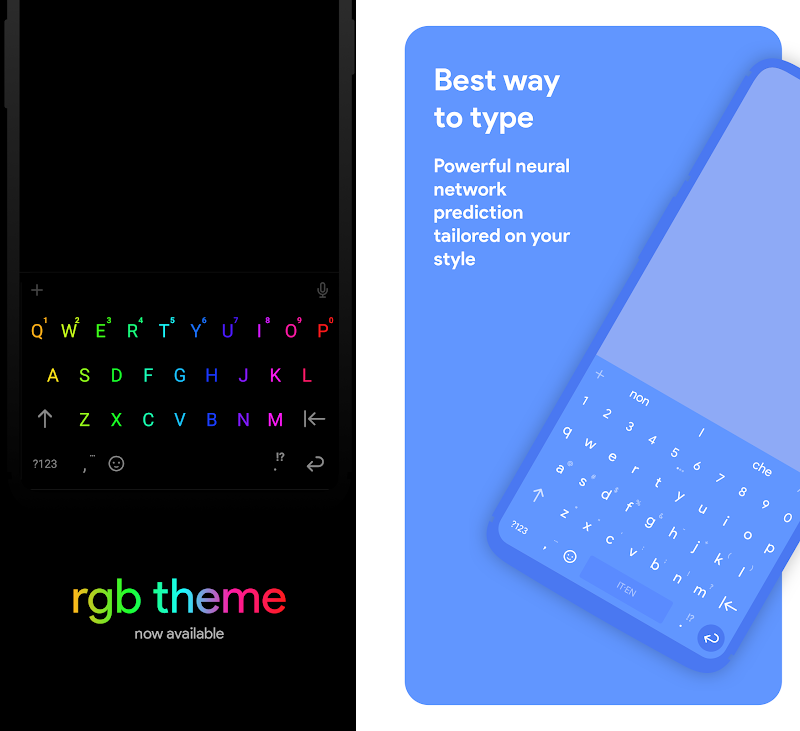 They have nice GIFs and emojis which you can use in your conversation, it has dedicated GIF tab to search and send all the GIFs and its AI suggest emojis to you which can be seen on the top row of keyboard.