Most of use use plastic payment method to pay bills of our shopping or restaurants.But in near future you don't have to carry those cards and make your wallet heavy.
Google has introducing Google Wallet, Google Wallet is a mobile app that will make your phone your wallet. It stores virtual versions of your existing plastic cards on your phone, along with your coupons, and eventually, loyalty and gift cards. Our intention is that Google Wallet will be an open mobile wallet holding all the cards and coupons you keep in your leather wallet today.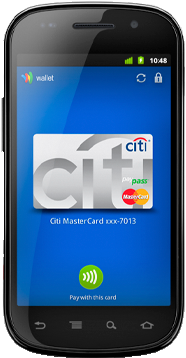 Google Wallet app works with NFC, means all your cards details will be inside the app and when you have to make payment just tap and pay using Google Wallet anywhere MasterCard PayPass is accepted. Currently, MasterCard PayPass is available at hundreds of thousands of merchants across the United States.
Currently Google Wallet is only for US and supports only Nexus 4G, but soon you will find this app on other Android and might be on iOS too.