If you ever had used or saw Windows Phone then you must know that the most popular thing about it is live tiles. If you had loved live tiles for Windows Phone then you can get similar for your iPhone but only on your contact list.
Fliple is a free app for iPhone which brings same live tiles UI on your iPhone contact list. With Fliple you can create your own groups, people and then manage them easily.
When you install it, Fliple will ask for permission to access your contacts, once you allow it you will find your contact list in a new beautiful tiled interface. You can customize most of the section of Fliple like you can add people to your group, change color layout and so on.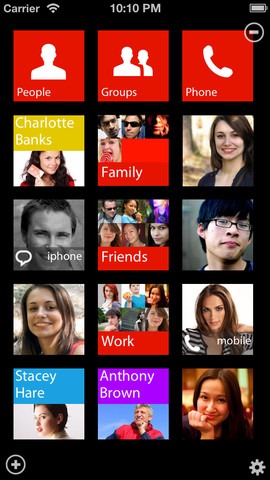 You can send e-mails or text messages to entire groups, you can also sort people on the basis of last name or first name. This app requires iOS 6.0 or later. This app is optimized for iPhone 5 and compatible with iPhone, iPod touch, and iPad.
Features :-
Organize contacts using groups
Send e-mails or text messages to entire groups
Quick actions: just one tap to call, e-mail or send a text message
Blazing-fast T9 search with a large keyboard
Highlight favorite contacts with custom tile color
Different layout for every trip or occasion