Samsung has just released its most awaited smartphone of the year, Galaxy S III. The phone is quite popular and people has started buying it which results short of supply unit from Samsung itself.
Samsung Galaxy S III will cost a lot, it cost around 44K INR here in India or you can say around $800 in international market. But if you purchase a locked version, which comes with a tie-up with operator then you could get it at very low cost, around of $180.
But the thing is that you need to stick with that operator, But now Voodoo Galaxy S III SIM Unlock will allows you to unlock the Galaxy S III and then you can use it with any operator.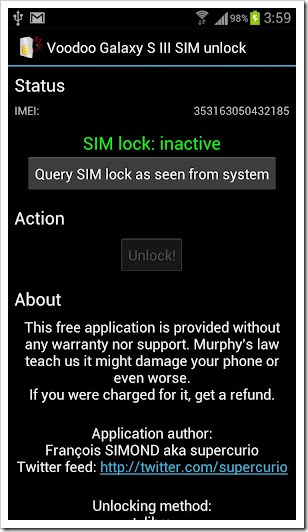 Don't worry, unlock is for lifetime so there is no fear of locking down again in future. So if you are planning to buy a Samsung Galaxy S II then just buy the locked one and then unlock it.
The application is freely available on Google Play, but it only works with international version, i9300 and required root access.