In last few years Asus has established itself as one of the key player when it comes to gaming laptops or desktops, we had seen some great products from Asus. Republic Of Gamers series has impressed us very much and in many occasions, ROG laptops has proved themselves has full value for money. Now Asus has came up with a new series of ROG laptops which not only come with top of the line specs, but also features all new NVIDIA RTX 2060 GPU like Asus ROG Strix Scar II (First Impression) which gives you a next level of experience. More or less, its features remains the same which we have seen in its predecessor, but that GPU upgrade make hell lot of difference when it comes to the experience.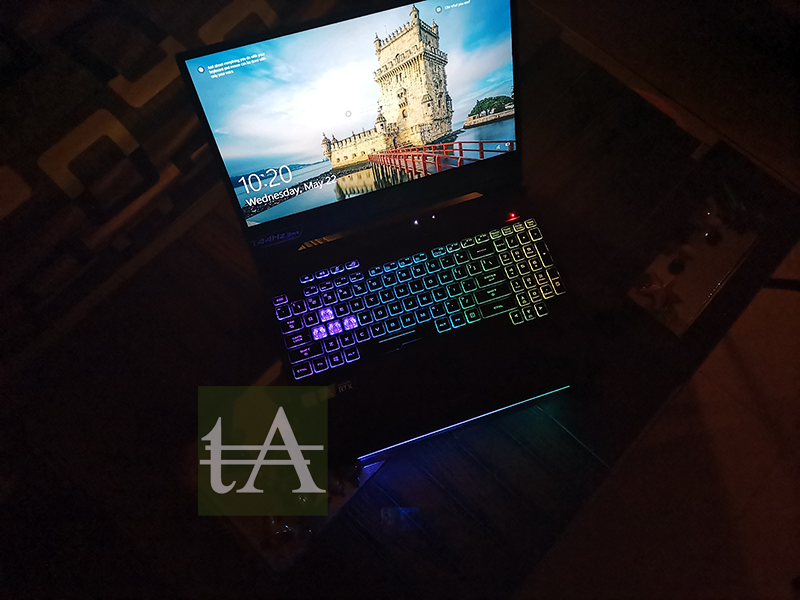 Build And Design Of Asus ROG Strix Scar II GL504 –
If you have ever used Asus laptop or if you have ever seen their laptop, then you must have noticed that Asus always make sure you will get best build and design, either you get 40K laptop or 3L laptop, you will get top class build in your machine, and Asus ROG Strix Scar II GL504 is no exception here.
When you take laptop out of box, you will find an eye-catching design, the lid has dual-gradient brushed aluminium finish with RGB glowing ROG logo which looks nice.
When you open the laptop, you will be greeted with a full size keyboard, and best part is keyboard has RGB lighting on it and you will find a LED strip down at the bottom part of the chassis which gives a cool effect in dark environment.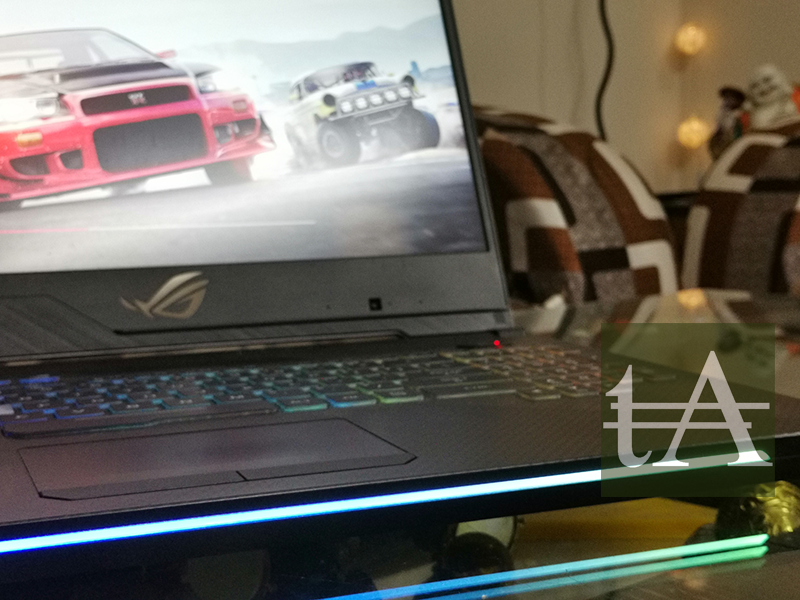 It weighs in at 2.4kg, even though it fits perfectly into my backpack, despite having most of the plastic, we haven't found any kind of flex on keyboard or on lid.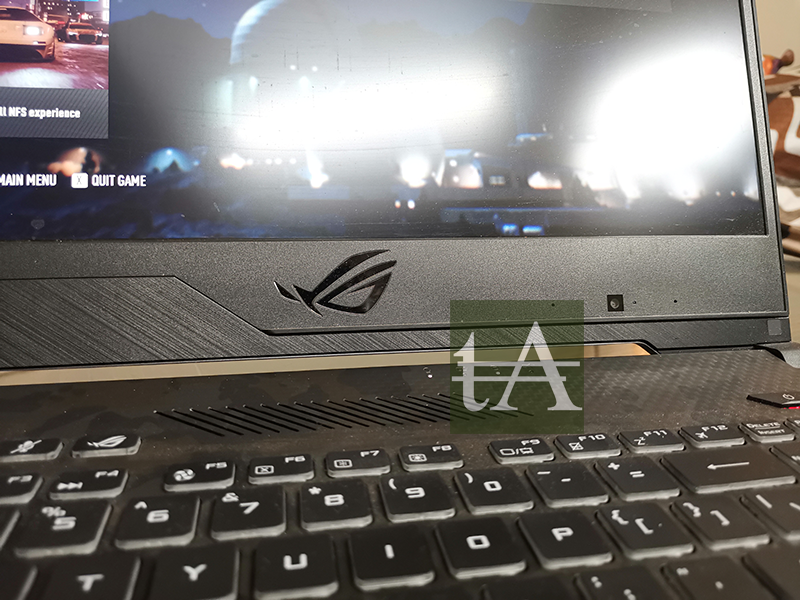 On display front, it has very thin bezels on the sides and at top which means very immersive gaming experience, but there is a big bezel at the bottom of it and here you will find web cam at a weird location, despite of having at the top, it is placed at bottom of screen.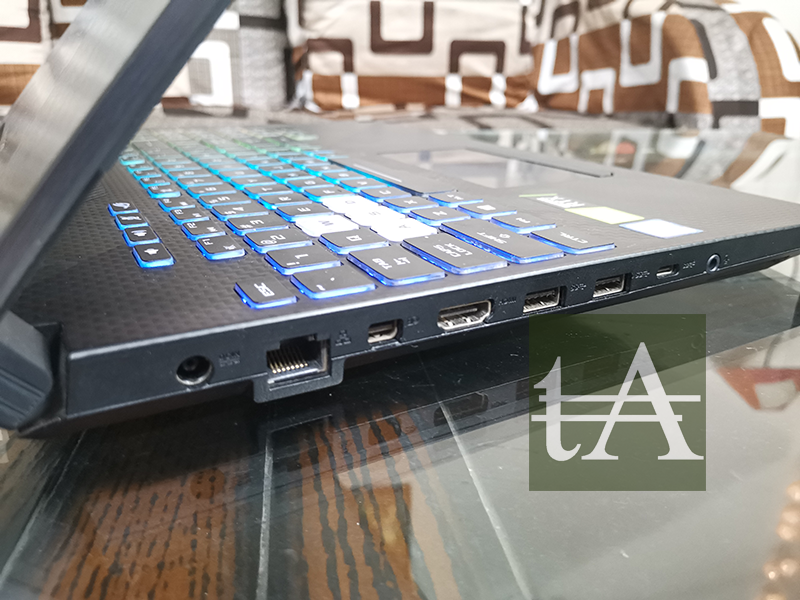 When it comes to the connectivity and ports, then you will find USB-C Gen 2 port and two USB 3.1 ports, an HDMI output, Ethernet, headphone jack and Mini DisplayPort on the left side, while on the left side you will find a USB 3.1 port and an SD card reader.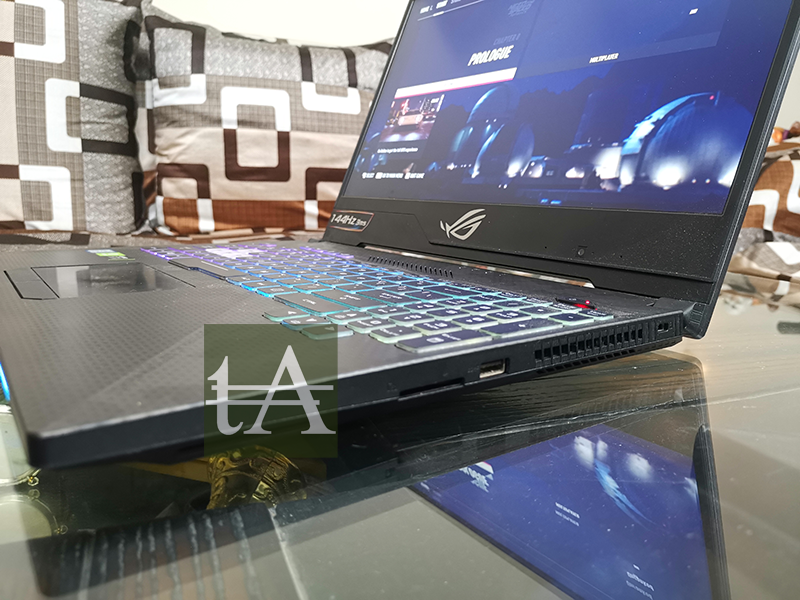 Hardware And Specs of Asus ROG Strix Scar II GL504 –
Under the hood, Asus ROG Strix Scar II GL504 is powered by Intel 8th-gen Core i7 8750H along with 16GB DDR4 RAM, and for GPU, you have Nvidia RTX 2060 6GB RAM.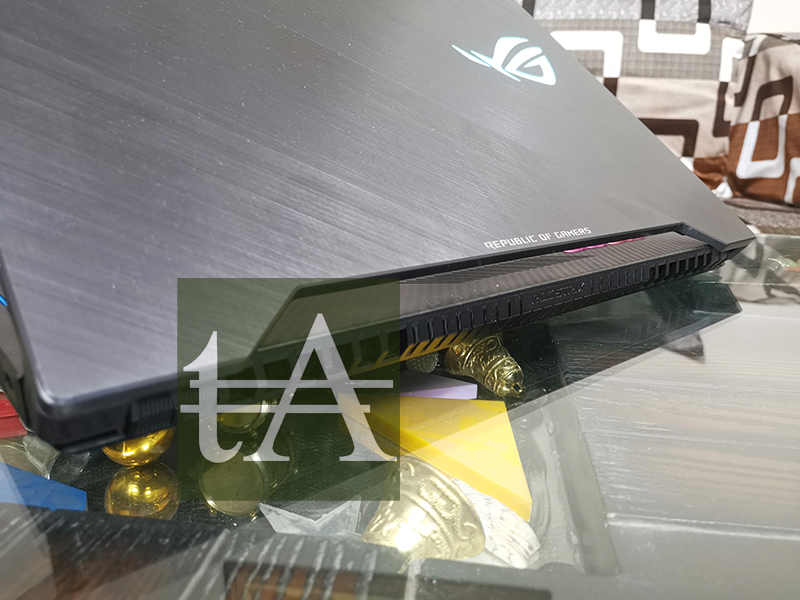 It flaunts a 15.6-inch FHD 144Hz display, for storage you have 256GB SSD along with 1TB SSHD, for wireless connectivity you have Gigabit Wi-Fi and Bluetooth 5.0, it runs on Windows 10 Pro.
Keyboard And Trackpad Of Asus ROG Strix Scar II GL504 –
Asus ROG Strix Scar II GL504 comes with full size keyboard which comes with decent key travel, it offers deep 1.8 millimeters of travel which is nice for any laptop keyboard.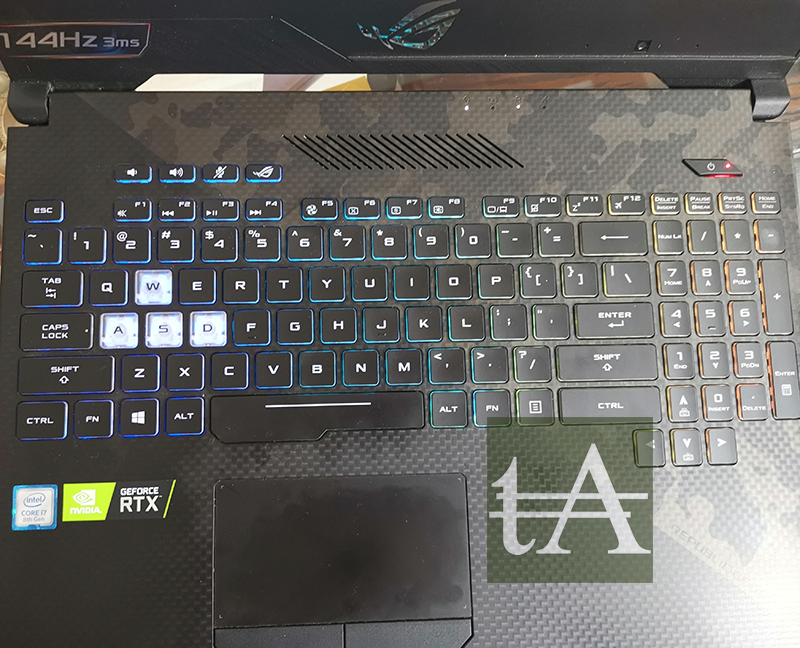 The keyboard has four sections of RGB backlit which you can control from Asus Aura interface. Keys offer nice feedback, but I find it little uncomfortable for long typing and yes those RGBs has some glittering effect which can distract you.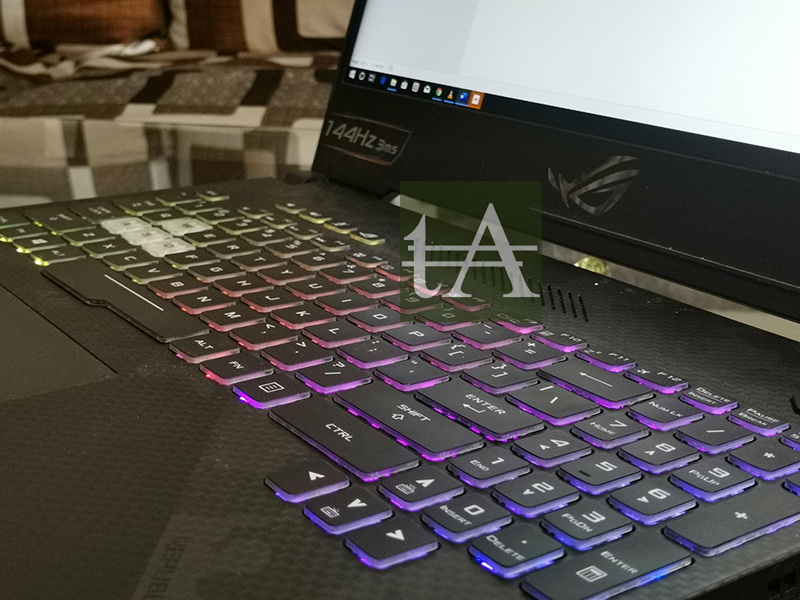 There is a dedicated ROG Gaming Center key, and yes the WASD keys are all transparent.
When it comes to trackpad, it is smooth and precise, I always love when I have two separate keys on trackpad, and its here. It uses Windows Precision drivers, which means multi-finger gestures work just fine here.
Display Of Asus ROG Strix Scar II GL504 –
Display of Asus ROG Strix Scar II GL504 is one of the highlight here, it comes with an 15.6-inch FHD IPS LCD display which offers a smooth 144Hz refresh rate with 3ms response time, which means you will get smooth game play when you push games at 60fps.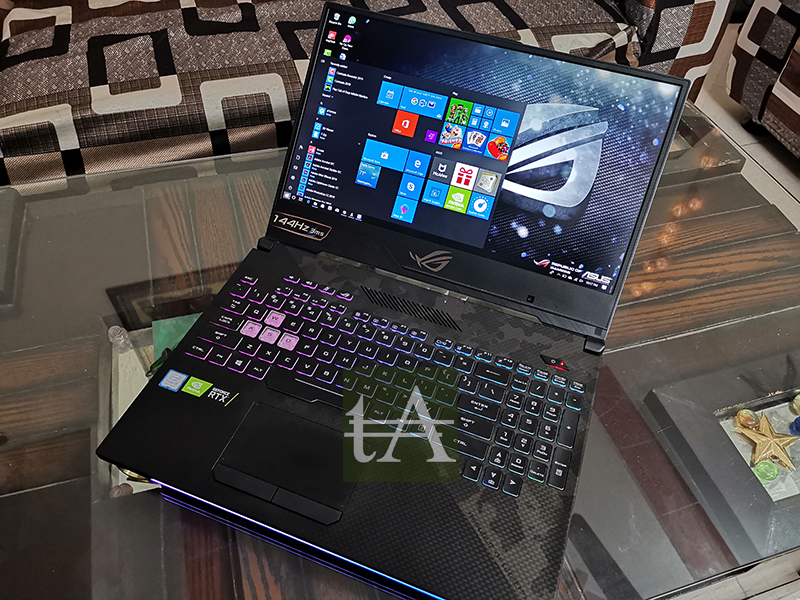 As told earlier, it has very thin bezels on three sides, bottom has big and very thick bezel, and bottom side also houses web cam as well which is one of the worst placement Asus has ever gone with.
The colors on this display are very good, they are not the best but they offer more than what a gamer need.
It has peak brightness is up around 300 nits, which very decent for gaming, and has contrast ratio of around 1000:1, it covers 100% sRGB, 72% NTSC, and 76% AdobeRGB.
Colors appears very decent to me, yes it do offers some colder tone as Asus is using 7500K, but I dont think many of you will ever notice this on your display.
Even if you do color correction and color grading on videos, then also you will get accurate colors on your clips.
Noise, Heating, Speakers, and Battery On Asus ROG Strix Scar II GL504 –
Asus ROG Strix Scar II GL504 is very silent laptop, unless you push this machine to its maximum limit, it remain silent, and same is the case for heating, while playing games like Far Cry 4, PUBG, Tomb Raider, Need For Speed Playback and Call Of Duty, I haven't found any heating issue, even after playing for around 2-3 hrs.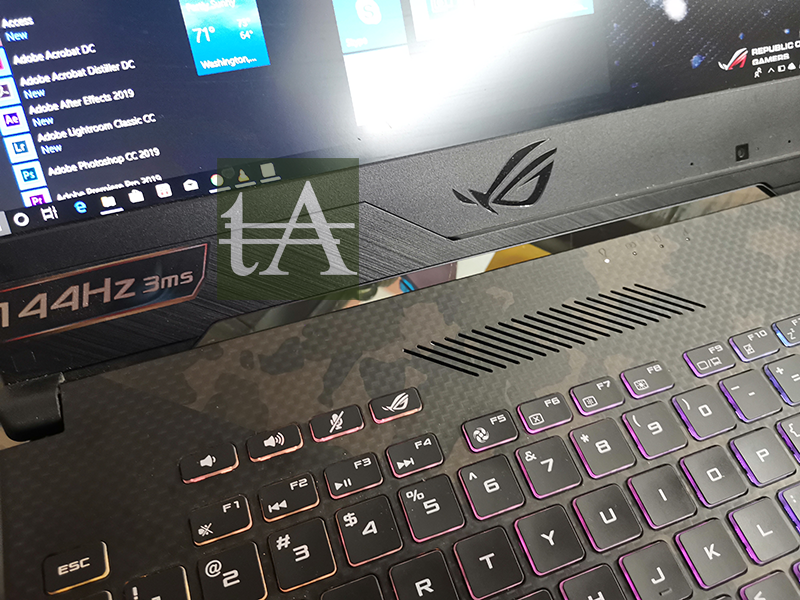 But when I was rendering a 4K clip on premier pro with some color grading an color correction, all fans started spinning at there maximum limit to dispense the heat it has got due to the load.
It has dual side-firing 3.5W speakers which sound great, and you can easily watch YouTibe videos in group.
Like most of the modern gaming laptop you have battery issue, they comes with mediocre life and same is the case with Asus ROG Strix Scar II GL504, on normal usage which includes web browsing, emailing, some MS Word and Excel, I got around 4-4.5 hrs of usage, and if you play games then you will need to find electricity socket sooner.
Performance of Asus ROG Strix Scar II GL504 –
No doubt Asus ROG Strix Scar II GL504 comes with one of the best specs available at this time, you have Intel 8th-gen Core i7 8750H along with16GB DDR4 RAM, Nvidia RTX 2060 6GB RAM GPU and 256GB SSD.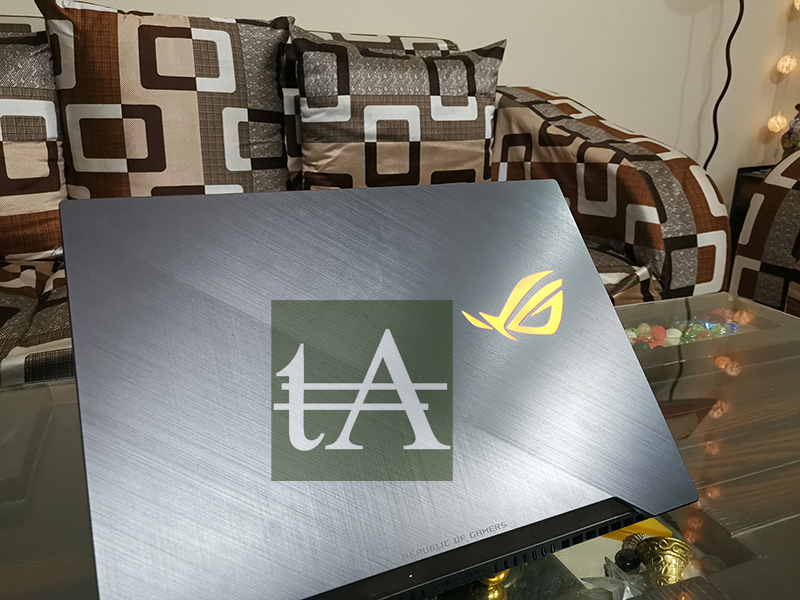 All this makes it as a powerful machine, the included SSD makes its performance very fast, it reduces the boot time of it, and then you have SSHD which is faster than traditional HDD.
We were able to push all AAA games like Far Cry, Call Of Duty, and some more to their max setting and we got decent frame rate and its locked and we never faced any frame drop while playing games.
We successfully edited a RAW image on Adobe lightroom and on Photoshop without any glitched, and same is with an 4K clip which we edited on Adobe Premiere Pro and it was rendered in to time, yes it did made some noise while exporting that clip but that is something I was expecting.
And then I converted that 4K clip to an 1080p with the help of Handbrake and again no glitch or lag on the machine.
Yes, we have it, for those who love numbers, here you go –
PCMark 8 Advance Edition – 5238
PCMark 10 Advance Edition – 6459
3DMark (Fire Strike) – 13876
3DMark (Time Spy) – 5966
CrystalDiskMark – 1696MBps Read & 1308 MBps Write
Cinebench R15: 104.35 fps
Cinebench R15: 1772 on Single Thread and 1322 on Multi Thread
As number also tell the same story about this machine is that it has good performance and will never let you down.
Final Verdict On Asus ROG Strix Scar II GL504 –
Asus ROG Strix Scar II GL504 is one of the few laptops which check all the boxes of being a good gaming laptop, and on top of its power pack hardware, you will get great build and nice design.
This machine comes with a little bit of bump over last years model but that bump is noticeable and make difference of 20-30% as RTX 2060 brings lots of improvements to the board.
No doubt display is the key highlight over here, and if yo love to play games then you will sure enjoy this display, and I have a personal complaint or advice to Asus, please start providing ThunderBolt 3 ports.
Upgrading this machine is fairly simple, all yo need to do is remove some Phillips screws from the back of this machine and then you have access to RAM slot and SSD slots.
Yeah keyboard can be more improved one, and same goes with the battery, but they are decent for a gaming laptop.
If you travel a lot and looking for a beast which can go with you everywhere, then I guess Asus ROG Strix Scar II GL504 could be that beast for you.