Instagram is one of the most popular image sharing app for iOS and Android users, earlier this app was only available for iOS users but then an Android version was released. This app allows you to take photos and apply some great awesome filters to it. You can then share this photos on Twitter and Facebook.
But this app is not available for Windows Phone users but there are some good alternatives for this app which allows you to perform similar things, let take a look on those apps :-
EyeEm
EyeEm is a photo sharing & discovery app that connects you with like-minded people through the photos you take. You can take beautiful photos with 11 photo filters and then easily update your friends on Facebook, Twitter, Flickr, Foursquare & Tumblr. EyeEm is like a realtime photo search engine you can simply take a photo and discover albums of topics, places and events.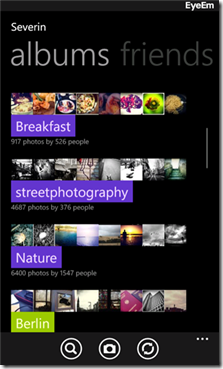 You can find people who take similar photos of the albums you contribute to Based on your location and your activity, you'll stumble upon new albums that are filled with photos from your friends and people around the world. It's a whole new way of visually exploring what's around you.
PicThx
PicThx is the first PicPlz windows phone client in the marketplace! You can take photos with this app and then apply filters on it. You can Take pictures, share pictures with your friends (twitter, facebook, etc), follow talented photographs, like, comment, and so on.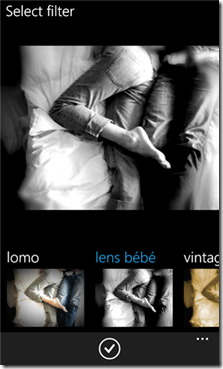 MetroGram
METROGRAM is the first INSTAGRAM Windows Phone Client. You can sign in to your INSTAGRAM account and browse Recent updates from people your are following, Popular and Nearby photos. Like, Comment, Share or Save photos, see who else likes them and what people think about. Look at photo owner's profile, see his photos and follow him if you want. Looking for someone? Just hit the "Search" button and search for him using his "Username". You can also use the Search page for searching for photos by tags.
InstaCam
InstaCam allows you to make your own photos unique by adding one of 26+ cool filters(HDR) and 12 great frames and share them to Facebook, Twitter, Foursquare, Tumblr, Weibo, Vkontakte and Flickr. Design more than 235000 filters by yourself and show them to your friends. You can also login to your Instagram account with this app.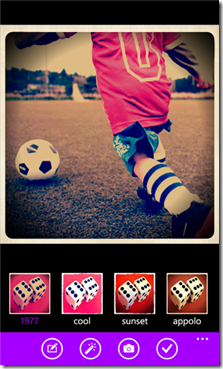 Photogram
Photogram can transform your photo with several filtered effects. You can use several prepared filter and frame, blur effect. You can upload picture to Facebook with message.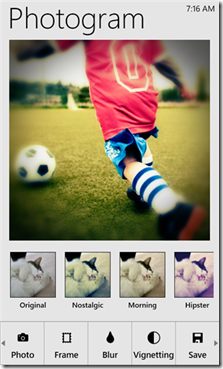 Lomogram
Lomogram is a photo editing app with more than 40 filters, lots of borders and light effects that can be combined in numerous ways to achieve unique look. You can also share your photos with Facebook, Twitter, flickr, tumblr and vk.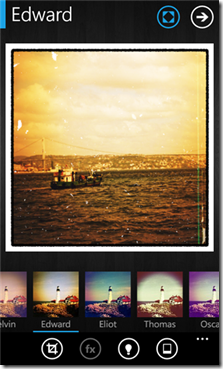 Bubblegum
Bubblegum is a fun and addictive, free photo-sharing app for your phone. Use bubblegum to take photos, apply a wide range of fun effects and then share them with friends via Twitter, Facebook or Foursquare.