[Update] Nokia India has removed those Band information from Lumia 920 Page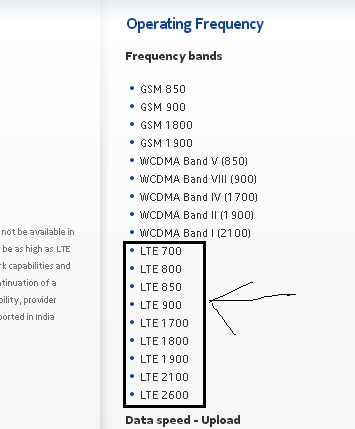 Nokia is yet to launch Lumia 920 in India but its ooficial website claims that Lumia 920 supports 9 LTE bands in India. As per Nokia Lumia 920 wil work on LTE 700, LTE 800, LTE 850, LTE 900, LTE 1700, LTE 1800, LTE 1900, LTE 2100, LTE 2600.
If its true then Lumia 920 will be the first phone in the World to support almost all FD-LTE bands which is most likely to be untrue.
European version of Lumia 920 supports 5 LTE bands LTE 800, LTE 900, LTE 1800, LTE 2100,LTE 2600 and US version supports only 3 LTE 700, LTE 170 and LTE 2100.
Currently in India operators are using LTE at 2300 Mhz which is not supported by Lumia 920 at all, even 2300 MHz is not a proper LTE as it comes under TD-LTE in which unpaired spectrum are used.
According to us this might be an error or typo from Nokia's side, we had tried to contact Nokia but hasn't got any reply yet.