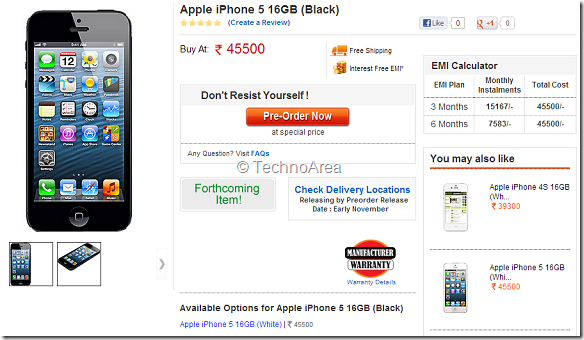 Indiatimes, one of the biggest online shopping portal of India is taking pre-order for iPhone 5, Price is similar which is being offered by Airtel as they too taking pre-order for this smartphone.
Indiatimes hasn't said anything on the delivery date but said that they will deliver it in early November, As we are getting news Apple might launch iPhone 5 here in India on 2nd November.
You can get both White and Black model on Indiatimes store, as on Airtel store White one was missing. Indiatimes also offering Interest free EMI option for those who place pre-order.
They are offering 2 EMI options, in first one you can pay EMI of Rs. 15,167/- for 3 months or you can pay Rs. 7583/- for 6 months.
You can also order iPhone 4 8GB model for Rs. 27,111/-, iPhone 4S 16GB for Rs. 39,300/-, iPhone 64 GB for Rs. 56,571/-. iPhone 32 GB model is out of stock at this time.