Many of us uses lots of social networking sites and post images and videos on them, but many times we want to transfer some albums or photos from one account to other. Like you might had feel to take a backup of your Facebook albums on Dropbox.
You might download whole albums or use some web app that allows you to download Facebook albums but what about other services like Instagram, Photos on your Facebook Pages, Flickr, Picasa, MySpace and so on.
PiPe is an online app which allows you to create a pipe line between source (from where you wanna download photos) and Destination (where you wanna download photos like Dropbox, Box and so on).
To get started with Pipe you have to visit site and make account using your Facebook Or Google ID. Once you don with account you have to select a source web app from where you wanna download or where you had photos and wanna transfer from there. You can download photos from :-
500px
Facebook
Facebook Pages
Flickr
Instagr.am
Kodak Gallery/Ofoto
MySpace
Photobucket
Picasa
Shutterfly
SmugMug
Just click on the service and then you have to authorize the app so that it can fetch photos from it. Once you authorize it wait a bit as it will take some time to download photos from your account.
Once it ha fetched all images from your account, you can either select separate photos just click on Select All button to select all photos at once. Now click on Continue button at top-right,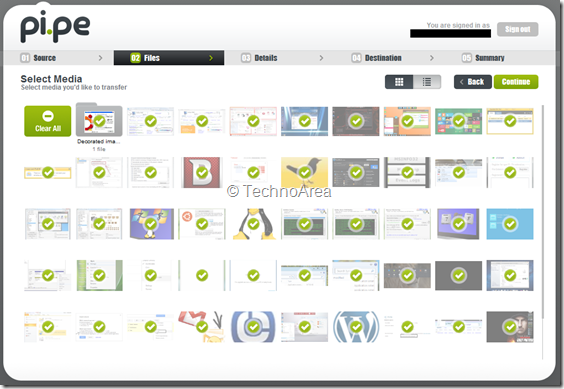 Then on next page it will show details of files like how many files you are going to transfer
Now you have to select the destination, where you wanna send your files it can be :-
Dropbox,
Facebook,
Facebook Pages
500px,
Box,
Cx.Com,
Evernote,
Flickr,
MySpace,
Photobucket,
Picasa,
Shutterfly
SmugMug
SugarSync,
YouTube
Just select any account and authorize it, once authorized select that account move ahead,
At last it will show a summary which tell from where you are going to transfer file to which account.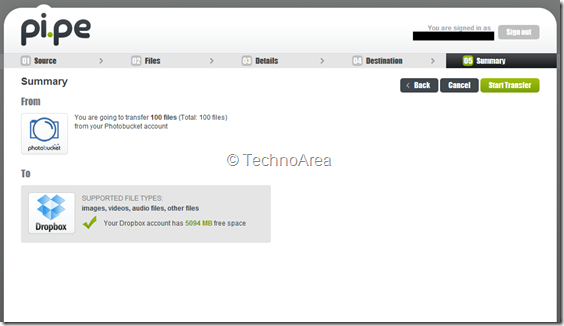 Now click on Start Transfer and your transfer will start in few moments.