Do you love to keep your desktop clean like me, but there is one icon which always sit on the desktop and its Recycle Bin.
We have to access Recycle Bin many time for many reason that's the main reason we cant remove Recycle bin completely from desktop.
MiniBin is a small freeware utility which moves your Recycle Bin to your System tray and allows your to perform actions from there.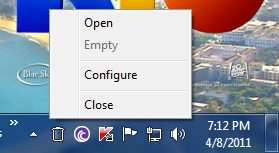 You can just right click on the icon on the icon and then select action like Empty or Just double click on it and it will empty it.
You can also change the names like of Open, Close Or Configure too.
You may use following link to download it :-