Many times we delete some files from our computer without seeing what we are deleting and in this case we delete some priceless photos of our vacation or of last holidays and so on.
Or it may happen that you had photos on a USB but someone else has formatted it without your knowledge, and you don't have any kind of backup.
These are some reasons for the loss of digital photos:
Photos are deleted accidentally
The memory card of your digital camera is faulty
A USB flash drive was formatted or is defective
The memory card of your smartphone was deleted
The file system is corrupted
PDF or Word documents containing photos are deleted
In this case Ashampoo GetBack Photo will help you, as its name indicates that it will bring all your lost photos which you had lost accidentally or deleted from your computer or USB.
It not only allows you to get back those photos which has been deleted normally but it can also bring those photos which has been formatted too.
It supports all common file formats like JPG, PNG, BMP, PSD, TIF, GIF, HDP, APCDOC, PCD and many current RAW formats, e.g. Canon Raw 2, Adobe DNG, Nikon NEF etc.
To use it you need to launch it and then you need to select the device or location which you wanna scan for, you may select your hard disk or even USB drive.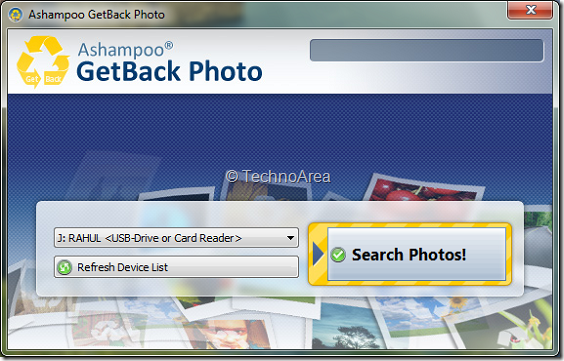 Now you need to click on big Search Photos! button and then it will take some time to scan your device or location.

Once it finishes searching it will show results, which photos were recovered in a nice form and then you can select which photo you wanna keep and which not.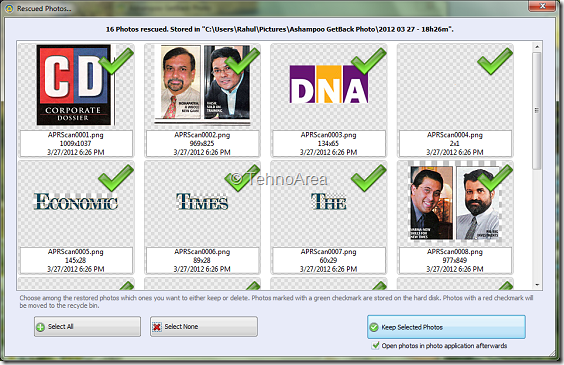 Features :-
Recovery of deleted or damaged image files
Scan of all storage devices in the system
Photos might even be found, after the storage device was formatted
Metadata is also recovered, e.g. EXIF and IPTC
Support of all common file formats, e.g. JPG, PNG, BMP, GIF, RAW
Photos are also found in file formats such as PDF and Word documents
Display of recoverable photos as thumbnails
Requirements
Operating System:
RAM:
Disk Space:
Min. 17 MB
Additional disk space with sufficient size for recovered files
It is available in 27 languages German, English, Dutch, French, Hungarian, Russian, Polish, Portuguese, Spanish, Swedish, Slovenian, Czech, Chinese (simplified), British English, Bulgarian, Serbian, Portuguese (Brazilian), Hebrew, Chinese (traditional), Korean, Arabic, Rumanian, Slovakian, Finnish, Spanish (Argentina), Belorussian, Georgian
This tool will cost you for $19.99, but you can download a trail version and check it before you spend your money.